At Affordable Waste Solutions, Inc., we offer our pink dumpsters in sizes up to 4.5 tons for the biggest, toughest jobs.
We'll collect all the waste to be dumped and dispose it safely at our secure trash site.
All you have to do is tell us the size of the dumpster you'd like and how long you think you'll need it – we'll handle the rest! Please see our rental rates and disposal fees for more information.
Convenient Waste Disposal
Whether your project is large or small, Affordable Waste Solutions, Inc. has the right dumpster for you. Not sure what you need? Let us recommend the right dumpster for the job.
Our team of professional drivers will move your equipment from one job to the next. We specialize in equipment moves for construction, logging businesses, manufacturing and more. You need a large piece of equipment moved. We can do it to keep you on schedule for your customers. Variety's of Equipment include (but not limited to):
Call Us Today for a FREE Quote!
Join Our Cause by Renting a Dumpster
Every time you rent a pink dumpster of any size, Affordable Waste Solutions, Inc. donates a portion of the proceeds to breast cancer research.
We're dedicated to our community and invite you to join us in the fight against cancer by calling us today!
Call For a Quote:
413-244-1943
Comprehensive Disposal Solutions

Do you have waste left on your property from a construction project or a home cleanout? Affordable Waste Solutions, Inc. offers responsible handling and disposal of yard waste, discarded lumber, and household items.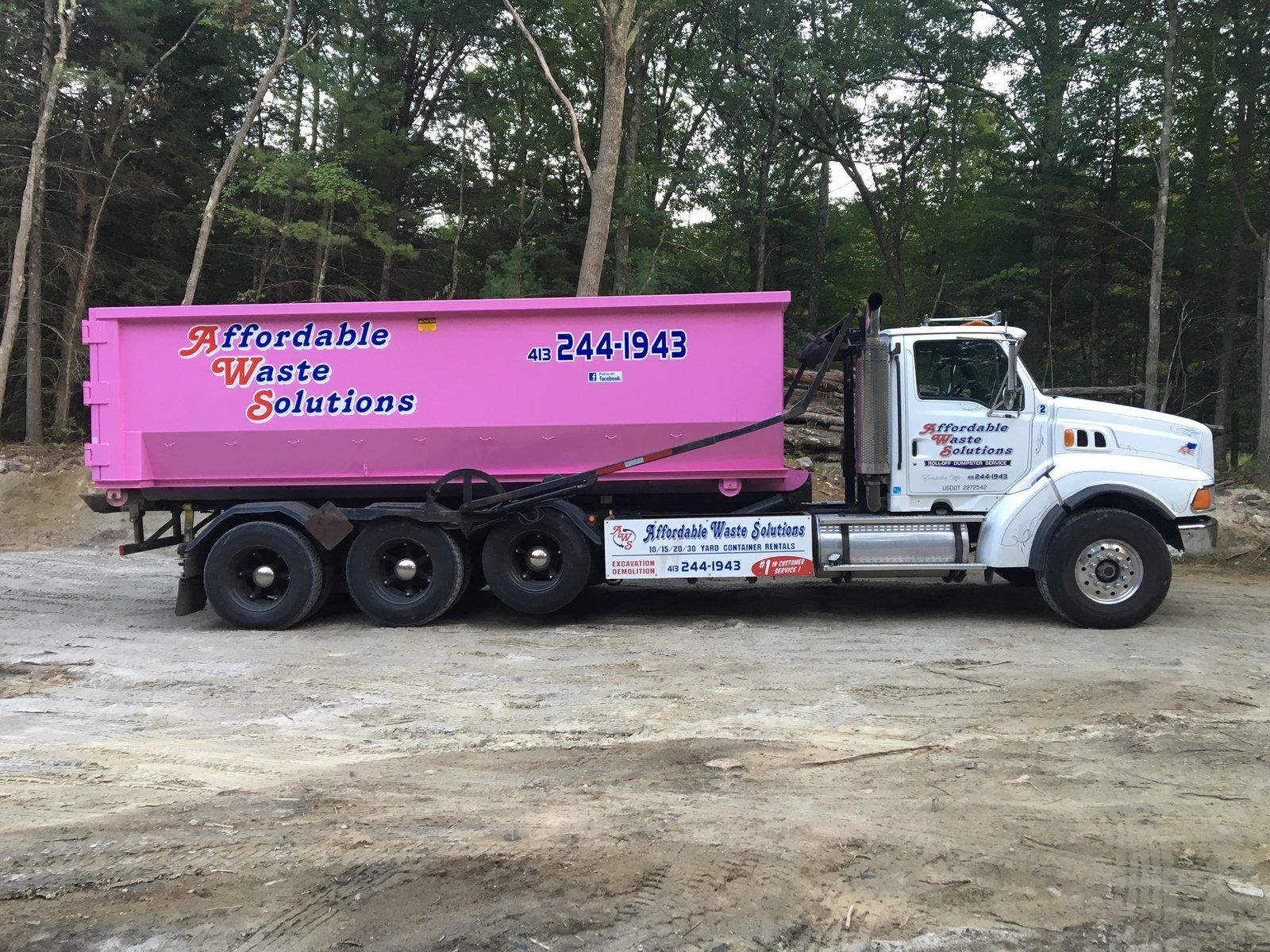 "Great prices, very friendly service. They were very promp with delivery. Ya, their dumpsters, but it was clean."
- Kevin H.

"The service and response to our requirement for a dumpster was fantastic....from the office staff of Abby and Ann Marie to Jared, the kindest and most helpful service personnel, we highly recommend this company for your removal needs....job well done, AWS!"
- Sue B

"i have been working with affordable for some time and would recommend them to anyone looking for dependable,reliable,and affordable dumpster service"
- bruce c
MON – FRI
7:00 am - 6:00 pm
Affordable Waste Solutions, Inc.
Hampden, Massachusetts 01036